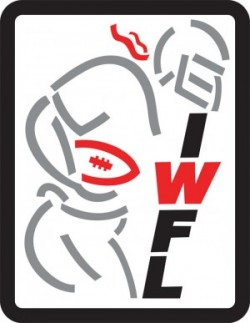 (
Original press release can be found on the IWFL website here
)
IWFL Welcomes Thee Toledo Reign
By: IWFL
Round Rock, Texas –The IWFL is pleased to announce it has awarded a new team membership to Thee Toledo Reign. Thee Reign will begin play as an expansion full member team in 2015 with a full schedule of exciting games.
Established in 2003, Thee Toledo Reign is one of the longest running women's football franchises in the sport. Thee Reign will be the premier IWFL team in the state of Ohio, as well as acting as a bridge between the Atlantic and Midwest regions.
"This is a special team. Beth Razzoog and Mitchi Collette have built a team that consistently displays exceptional sportsmanship and skill on the field. This is a group that honors their responsibility as role models and that is exactly the type of team we want in the IWFL," said Kezia Disney, IWFL Chief Operating Officer.
Thee Toledo Reign will offer women an opportunity to learn to play full tackle football and compete at the national level. The team will play regionally in Ohio, Pennsylvania and surrounding states during the regular season. The schedule will feature match ups with some of the best and most respected teams in the sport.
"The city of Toledo has long been a pillar in the women's football community and the Reign continues that tradition entering our 13th season. This is a tremendous opportunity to not only reconnect with some of our historic rivals, but also to forge new relationships with teams across the region. Most importantly, we want to provide our coaches, players and fans with a competitive, fun and memorable game day experience.", stated Beth Razzoog owner and IWFL Delegate.
Tryouts
Women interested in playing competitive tackle football can attend open tryouts for Thee Toledo Reign throughout the month of October, with events scheduled at both Northwood's City Park in Northwood, OH as well as St. Anthony's Kenna Hall in Temperance Michigan. Details about where to report and what to bring to tryouts can be found on the website or by contacting us by phone or email.
Phone: (419) 654-5799(419) 654-5799
Email: reignweb@gmail.com
Website: www.theetoledoreign.com
About Thee Toledo Reign
Thee Toledo Reign is the IWFL's representative franchise in the football-rich state of Ohio. Founded in 2003 by co-owners Beth Razzoog and Mitchi Collette, the Reign provides the opportunity for women 18 years of age and older in northwest Ohio and southeast Michigan to participate in full-contact tackle football. The mission of the Reign is to enhance the lives of women by providing an outlet for active cooperation with their teammates and nurturing their competitive spirit. For more information visit our website at www.theetoledoreign.com
About the IWFL
Founded in 2000, the Independent Women's Football League (IWFL) is an international women's tackle football organization. The IWFL provides women's tackle football teams the opportunity to play at the top competition tier of their sport, while fostering an environment of goodwill and sportsmanship. Offering participation levels appropriate for all markets the IWFL has taken the lead in the development of women's football for future generations. For more visit www.iwflsports.com